CAPTIVATE
You're invited for a day of inspiration, motivation and captivation as the VWIB present 'Leadership Conference 2019 – CAPTIVATE', Friday, October 25, 9:00 – 5:30.
Guest speakers for this years event include Faith Wood, Mark Jennings-Bates, and Crystal Flaman.
Everyone 19 and older is invited to attend!
Click here to purchase tickets: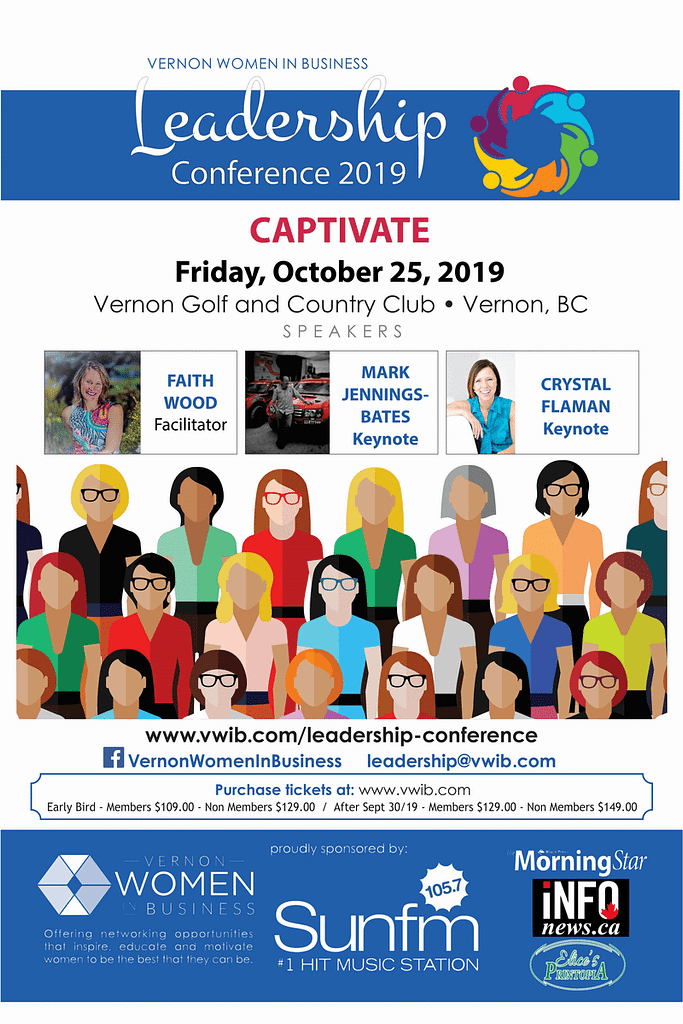 CALLING ALL VENDORS
The VWIB Leadership Conference team is excited about the 2019 Conference – Captivate!
DATE: FRIDAY OCTOBER 25, 2019
PLACE: Vernon Golf and Country Club
Don't miss out on the opportunity to showcase your business at this popular event! We have 10 tables available: first come, first served.* This offer is open to VWIB members exclusively until April 12, 2019. If any tables are available after that date, we will open the offer to non-members.
PRICING:
Vendor table: $75
And your conference ticket at the "Early Bird" price: $109 VWIB member or $129 non-member
Door prize to be given away during the event: $50 minimum value
Book and pay for your table and conference ticket soon to ensure that you will be able to market your product or service to conference delegates.
It's easy and quick to register and pay online: Vender Application
*Note: As in the past, the committee will exercise its discretion to ensure that there is no duplication of Vendor businesses.
Your conference committee is here to help you! If you have any questions, please contact us at: leadership@vwib.com or call/text Cindy Derkaz 250.253.2684 or Teena Boomhower 250.550.0374 or Navneet Ghoman 437.345.0618.