When:
December 11, 2019 @ 11:00 am – 1:30 pm
2019-12-11T11:00:00-08:00
2019-12-11T13:30:00-08:00
Where:
Vernon Golf & Country Club
800 Kalamalka Lake Rd
Vernon, BC V1T 6V2
Canada

Celebrate the festive season at The VWIB Christmas Market Luncheon! This popular annual events features a chance to win fabulous door prizes, shopping from local market vendors, and a delicious Christmas lunch catered by the Vernon Golf and Country Club. Get your tickets and book a vendor table before space fills up! (See Vendor Information below)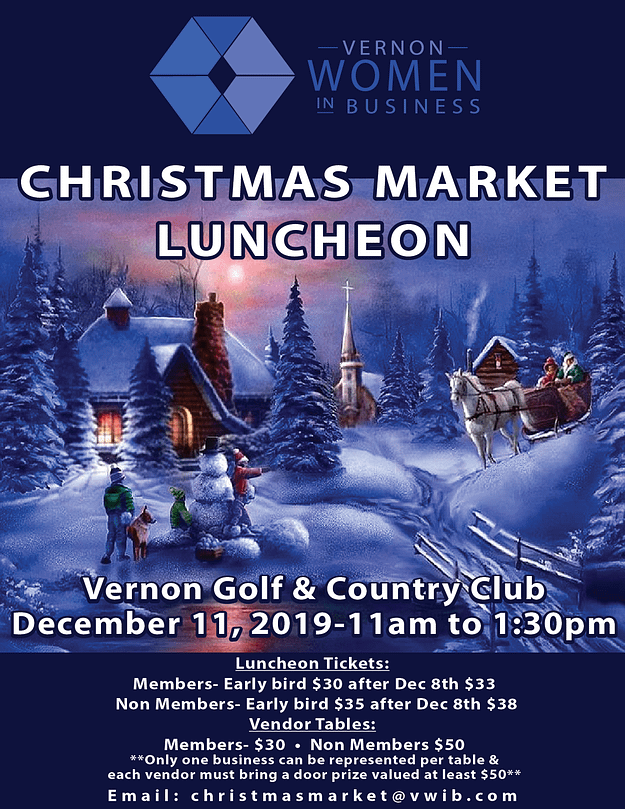 Vendor Information
Vendor tables are $30 for members, $50 for non members. All participants must also purchase lunch – which you can do when you register your table.
Upon submission of your application you agreed to the following Rules and Regulations:
1. Only one business/vendor is permitted per table. If you would like to request a shared table please make note of it in your submission. Each business will pay the full cost of the table. VWIB will accept such requests at their own discretion.
2. VWIB reserves the right to decline and refund any application. We will accept a maximum of three Vendors per Business Category in order to ensure there is diversity.
3. There will be only one Vendor allowed for specific products. This Vendor will be granted access on a first come, first serve basis.
4. Vendors are not permitted to raise funds for charity at their tables or during the market.
5. No political, religious or charitable groups will be permitted a Vendor Table, as this is a Market.
6. In addition to their table purchase, each vendor is required to contribute a door prize valued at $25.00 or more. We encourage vendors to use their own product.
7. Each vendor will have the opportunity to speak on stage for 30 seconds about their business.
8. All participants must purchase lunch. If you have already registered for and purchased lunch please choose the Table Only option, otherwise, choose the Table and Lunch option.
9. Table Vendors must arrive by 10:00 am to complete registration and set up, otherwise they agree to forfeit their deposit and table.
10. Registration will close when all tables are sold.
11. Vendors are required to bring a Door prize valued at $25.00 or more. Vendors will have the opportunity to have guests enter the draw for their door prize at their table, allowing them to collect  guest contact information and referrals. Each Vendor will draw for their own door prize and be given the opportunity to speak about their business.