2017 Leadership Conference
Friday, October 27, 2017
Registration 8.00am – 8.30am
Conference: 8:30am–4:30pm
Wine & Appies: 4:30pm–6:30pm
Vernon Golf and Country Club ● Vernon, BC
Tickets:  Early bird:  $109 members / $129 non members
October 1st to conference:  $129 members / $149 non members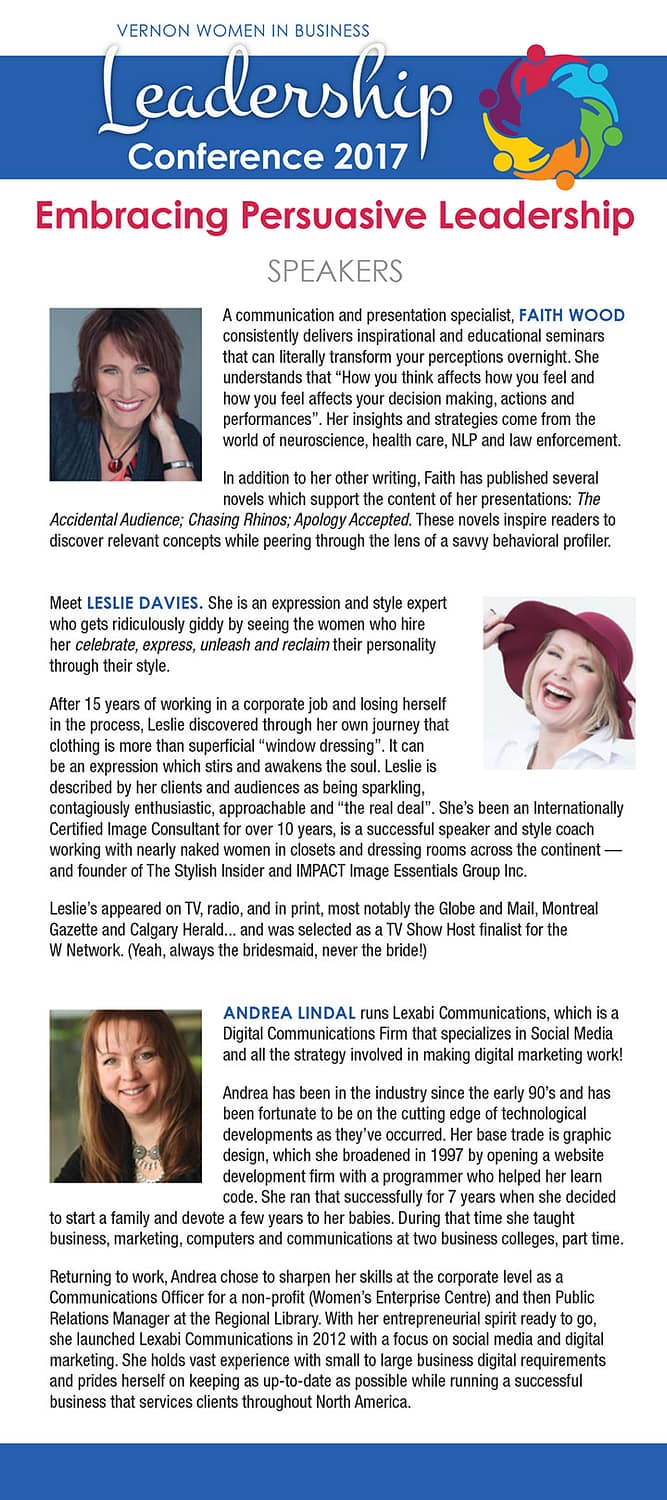 Any questions for the Conference committee email:  vwibconference@gmail.com
Tickets can be purchased with cash, cheque or credit card at our luncheons, from Julie Knobloch at Vernon Golf and Country Club at 250-542-0151 or through ticketseller.ca.
TECHNICAL ISSUES
We would like to apologize for the the technical difficulties we have been experiencing with Vendor Table registrations.
For those that have submitted their request online prior to this update, please contact Cindy Derkaz 250 253 2684 or Teena Boomhower 250 550 0274 for follow up as all applications submitted to date have not been received by the committee.
We further extend this welcome to all who would like to request information regarding Vendors Tables at our Leadership Conference to contact us direct as well.
We appreciate your patience in this matter and would like to extended added value to your experience as a Vendor by reducing the cost of your table for this event.
VWIB Leadership Conference
Vendors' Tables
Rules and Guidelines
Your VWIB Leadership Committee has listened – Vendors want more engagement in the leadership conference. Vendors are looking for a better experience and more "Bang for their Buck". 
This year's conference is all about Embracing Persuasive Leadership. Our dynamic professional coach, Faith Wood, is going to lead us in a path of discovery as we ask ourselves: 
Who am I? 
What uniqueness do I bring to the table? 
 But what if you also asked these questions about your business?  
What if you had a professional coach and an engaged audience focusing on your business? Helping you answer these questions about your business? Helping you to hone your message? Helping you to enhance your skills as a persuasive business leader in respect to your business? Helping you and your business to stand apart in (what can feel like) a crowded market place? 
We have a special opportunity for 10 Vendors at the October 27, 2017 Women's Leadership Conference. 
We are inviting conference participants to learn how to grow their persuasive communication skills by actively participating in a 'hands on' brainstorming activity dedicated to promoting your Vendor business. 
As a Vendor, you will: 
1. Have a table to showcase your product/services in the plenary area at the conference from 8:00 AM to 6:30 PM. 
Be an active participant in the group brainstorming activity.

 
Each non-vendor conference registrant will be randomly assigned to a group focused on building persuasive communication for your product/service. We anticipate that there will be 10 Vendors and each Vendor will have at least 8 registrants assigned to her business.

 

Prior to lunch, registrants will connect with their assigned Vendor to learn about her business/product.

 

Each Vendor will work with their group through lunch to create a compelling message for her business using one of seven key marketing words provided by Faith in the language of persuasion.

 

The messages will be shared with the whole conference, leading to valuable feed-back from our professional coach and the audience.

 

Fun prizes will be awarded to the participants.

 
Have many opportunities to market your product or service during the conference including during the breaks and at the wind-up wine and cheese reception. 

 
We anticipate that there will be a demand for this enhanced opportunity for Vendors and we want a diversity of businesses to showcase. As a result, we have established the following guidelines for this 2017 opportunity: 
We will select two businesses from each of the following five categories, on a first come-first served basis:

 
Beauty and grooming products or services;

 

Health, wellness and fitness products or services;

 

Event planning, photography, catering, hospitality, food and beverage and related products or services;

 

Professional services – e.g. accounting, legal, financial planning, insurance, real estate, funeral.

 

Other business or service.  

 
Each Vendor will indicate on her application which one of the above categories best describes her business. If two applicants sell the identical product (e.g. having the same branding/tradename), only the first application will be selected.

 
Applications must be completed and submitted online through https://www.vwib.com/ . No applications will be accepted by any other method of delivery, including email or fax.

 
Vendors must pay for one conference ticket* and for their Vendor table ($100) in full on or before 6:00 PM Friday September 29, 2017. 

 
Vendors must also donate one item or a service of a minimum value of $50 for a door prize for the conference.

 
If a Vendor is not able to participate in the conference after paying VWIB, she may not assign her table to another participant. Payments are not refundable.

 
*Conference ticket prices: 
Early Bird up to September 30, 2017: 
Member$109 
Non-member $129 
After September 30, 2017: 
Member$129 
Non-member$149 
Your conference committee is here to help you! If you have any questions please contact us at: vwibconference@gmail.com or call/text Cindy Derkaz 250 253 2684.